RP 3000 TC - RP 4000 TC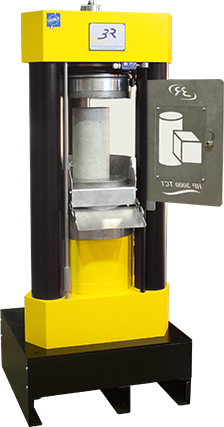 3-column testing machine with load capacity 3000 kN or 4000 kN
This geometrically perfectly (Isostatic) shaped frame ensures an ideal application of the load which is ideally centered on the specimen axis (Perfect line-up between the Jack and the ball seated joint axes) complying with the EN 12 390-4.

Standards : EN 12390-4 
The absence of antagonistic efforts induced by an excentered load axis, as well as the extreme rigidity of the frame, ensures the excellent accuracy of this machine.
Furthermore its excellent rigidity (deformation < 0.75 mm at 3000 kN) and its Jack with extra long guidance, make this frame the ideal machine for High Performance Concrete (HPC) testing.
Ergonomics:
The space between columns being bigger than with any 4 Column structure, ensures an excellent access to the specimen.
The Ergonomic working height (800 mm) allows you to install the machine on the ground, without any need for building a concrete machine base.
Specifications:

Class 0.5
High stiffness
Designed according to the European testing machines standards
Fully machine-tooled frame
3 columns: isostatic frame for a perfect loading
Distance between columns wider than 4 columns frames. Easy access to the working chamber
Ball seat made of hardened steel and Teflon coated for evenly distributed loading
Hardened steel platens - Hardness > 58 HRC
Vertical clearance : 340 mm
Piston : Low friction seals and bronze guiding.
Hydraulic stroke limiter
Centring stops for fast and correct positioning of specimen
Stainless steel protection doors, electrically controlled
Stand designed for forklift operation
2 models

   RP 3000 TC   

   RP 4000 TC   

  Load            

(in kN) 

3000

4000

  Platens     

(in mm) 

Ø 370

Ø 420

  Chamber   

(in mm) 

340

340

  Stroke        

(in mm) 

100

200

  Height        

(in mm) 

1650

2110

  Weight       

(in mm) 

1980

2950