SYSMO Earthquake Simulator
Earthquake simulator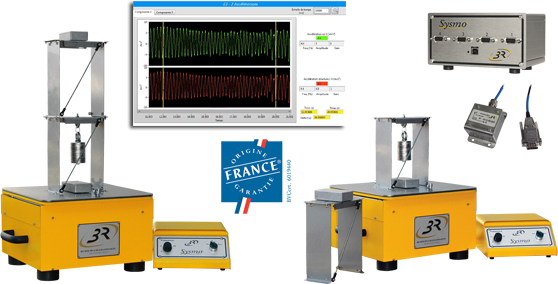 Educational tools :
To make students understand the link between seisms frequency and their dangerousness.
Study of civil engineer's complex structures is essential to ensure works' security and durability.
This testing rig allows to study several technical solutions to take line on structures facing seismic shakings : granted mass system, structure strengthening, height, neoprene supports.
The dumbwaiter allows to visualise the stress effect on different angles of the excitation incidence.
The removable elements of the structure allow to visualise their efficiency to fight against seisms effects.
Specifications:
Heavy frame, mechanically welded lacquered sheet, mounted on anti-vibrated blocks
Swinging platen on springy posts, with indexable rotating platen 
Excitator with adjustable frequency from 0 to 20Hz, stroke 2mm
Different structures in sheet representing a building, with its floors, struts, suspension, pendulum mass and removable braces
Control panel with a disconnecting switch, on/off switch, frequency adjustment (0 to 20 Hz)
Supply 230V 50Hz 0.25kW
Dimensions : L= 400 x l=400 x h= 220 mm
Weight : approximately 40 kg



Option : Instrumentation
MEASURE AND DISPLAY DEVICE OF THE ACCELERATIONS ON A STRUCTURE SUBJECT TO A SEISM INCLUDING :
Two triaxial accelerometers +/-30m/s² (3g) in metallic cases, to be fixed in two points of the structure
Power supply and packaging box up to 4 sensors, 8 USB outputs
Display software for PC (not supplied) (virtual instrument developped under National Instrument Labview platform), allowing to compare the accelerometers signals, realise measurements, confront measurements and theory ...