Multipoints BED "FM" Flexural Didactic Test Bench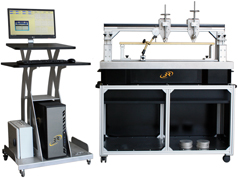 BED "FM" - Multipoints Flexural Didactic Test Bench

 The 3R Beam Flexural Bench is designed for practical tests of Material Resistance in graduate, undergraduate and technical colleges.
Thanks to its ergonomical flexibility, numerous tests can be experienced with several types of supports (simple, elastic, embedded, and so on.)
The working area is dedicated to discovery and education with the aim of determining the technical caracteristics of a beam made of different materials and under diffferent constraints schemes.
This apparatus is able, among other things, to :
Determine the flexural rigidity of a beam made of different materials
Check the beams theory (constraints, flexural moment, maximal deflection, distortion, etc.)
Compare several beams of different quadratic moments.
Apply a tensile constraint on a beam.
This material is entirely designed and made in France.
Technical specifications :
 Frame :
Dimension : width 1420 mm, total depth 400mm, height 570mm.
Sturdy aluminium frame : its assembly is noteworthy by its sturdiness and can overcome  the structure disortion problems during loading.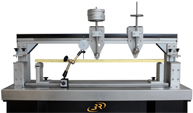 Load Application (upper supports):
Gantry with force application axis on drawn cup ball bearing on low friction.
Scaled gantry with the possibility of adding upper supports.
Mobile supports, side travel 1000mm
Rigid guiding which allows to apply the strain vertically with precision.
Bearing in high position by a spring pointer
2 supports supplied in standard with a set of weights, the two are distinct supports for applying independant forces.
Maximal load per support 10 kg (can be changed on request when ordering)
Knurled interface for quick change of the application beam of the force.
Force application beam made of  burnished steel.
 Lower supports  :
Galvanized steel, lower supports rule, stroke 1000 mm
1 single bedroll ø10mm, width 100mm
Two 2-bunk roller supports, ø10mm, width 100mm,
2 embedding supports (1 on each side),
The lower supports are positionable along the rule.
Accessories:
Supplied with a set of 2 aluminium beams of section 5x30 and 10x20 mm (other dimensions and other materials on request : steel, wood, brass,…)
Lot of soft elastomere strips, with lenght 600 mm and different thicknesses (for weights to be determined), to stimulate a distributed load.
Lot of machined steel and etched masses, weights to be determined,to stimulate point loads. To be used with the 2 upper supports supplied.
Options :
Strain gauges and conditioners
Mechanical or digital dial gauges.
USB hub
Acquisition PC
Quant-X software for reading the strain gauges and the displacement sensors.
C4 software for editing reports, plot curves, analysis and so on.
Profile aluminium trolley mounted on wheels (working height 800 mm)
Ergonomic desk Pup-X