High dimension testing rig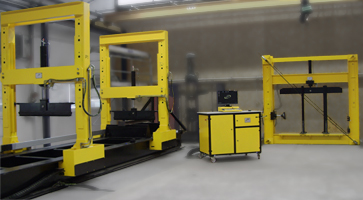 Testing rigs aimed for  DIDACTIC
Since 2000, we also design and produce didactic testing rigs. These benches, equipped with mobile gantries, are aimed for flexural tests on fencing posts or beams, buckling tests on fencing posts  or flexural tests on slabs, shearing tests on walls, and so on.

These frames are designed with a self-bearing fixed frame on which two (or more) cross-beams move. They are equipped with jacks of identical stoke, or different stroke (50 to 400 kN per gantry). The jacks are usually hydraulic ones, but they can also be electromechanical, according to the test to carry out.
When setting the specimen to be tested, the mobile rigs must be moved apart to the end of the rig, and carried back on top of the sample during testing. The interest of this design is, once again, ergonomical, since emphasis has been made during conception on how to easily load the specimens.
These rigs, usually driven by a Quantium control unit, are most of the time equipped with moving sensors, which allows to measure the beam on products to be tested.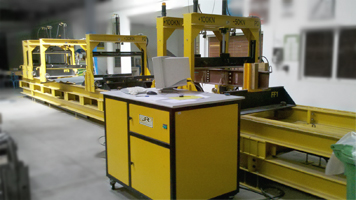 NOTA : we regularly modernise our testing rigs or cross-beams.
Do not hesitate to contact us !